Description
We are now taking pre-orders for Iron Sun Homestead Kits! These kits will be ready to ship in May 2020. E-mail us to add your name to the waiting list for an Iron Sun Homestead Kit, and we will contact you when they are ready to ship.
Price: $2400 plus shipping. E-mail us for a shipping quote. Local pickup is also available in Louisa, VA.
Iron Sun Boxes are the ONLY solar kits on the market that are repairable and durable for the rest of your life! The Iron Sun Homestead Kit is the same electrical system we have been using to provide all the lighting and charging needs of a community of 10-12 people at Living Energy Farm. For ten years we have never paid an electric bill, never started a generator, never had to replace a part (other than the occasional burnt-out light bulb), and never once in 10 years have our lights gone out! You get a bigger bang for your buck with this kit compared to our Cabin and Small House Kits.
Fully assembled in a sturdy steel enclosure, the Iron Sun Homestead Kit includes:
A 200 watt solar panel with a 25 foot all-weather cord attached.
Nickel Iron Battery Set, 100 amp-hours.
Xantrex Charge Controller
Midnite Sun "Big Baby" Circuit Breaker Box with 4 breakers and easily accessible internal bus bar for connecting devices (without going through the cigarette lighter plugs).
Surge Arrestor
Two cigarette lighter plug outlets to charge phones and tablets wired into the box. This kit provides greater flexibility for charging laptops and other devices at night and during cloudy spells.
20 LED light bulbs. LED bulbs have nearly 10 X the light output of incandescent bulbs of the same wattage.
Six Cigarette lighter cord plug adapters (the "male" side) so you can convert any lighting or DC appliance, including overhead lighting, to 12 volt DC.
Two small rechargeable flashlights.
Two USB cord adapters for charging smart phones, etc.
Two Pre-wired lamp with cigarette lighter cord.
The Iron Sun Homestead Kit will power 30 (or more) lamps or overhead lights, run fans, and charge devices and laptops at any time.
As with all Iron Sun products, we do not recommend using the Homestead kit to power an inverter or AC appliances. With inverter-based systems, if your voltage drops, everything turns off. With Iron Sun, even if the voltage starts dropping, you still have considerable flexibility about which devices you can keep using.
Other than USB cord adapters, we do not sell laptop and device-specific chargers because there are many different kinds, custom to each model of laptop or device. To find a charger for your device compatible with Iron Sun, search the name and model number of your computer or device followed by the phrase "car charger." Most are inexpensive. Using a lower wattage charger for your laptop will give you more flexibility with timing of use.
These are the batteries that are featured in the homestead kit: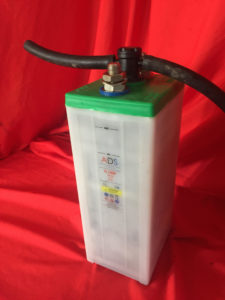 See the next smallest size (Iron Sun Small House Kit).